Oh so cute… I'm sure part of my awwww reaction is this super smiley baby wearing the penguin pjs. However, ya know, i'm just a big fan of any penguin garb and the fact this one is for baby just makes it that much better. I love the hood… I am definitely adding this to my wish list.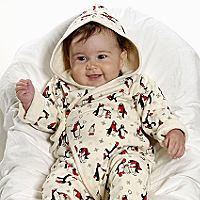 Penguin Snugglesuit from National Geographic
List Price: $28.00
Changing after bathtime is easy with this supersoft terry-lined snugglesuit.
[tags]penguin,baby,gifts,shopping[/tags]